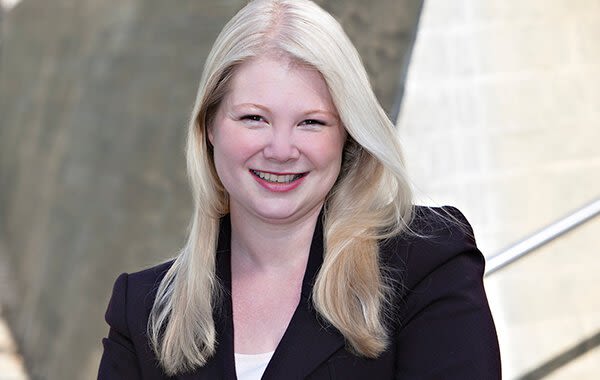 Caroline Fichter is a partner at the Bundy & Fichter PLLC. She is passionate about helping small business owners because she's a second-generation small business owner herself. She specializes in representing franchisees and franchisors in creating, managing, and exiting the franchise relationship.
Growing up with four siblings, Caroline learned early to be a vocal and tenacious advocate. She honed those skills as a prosecuting attorney where she learned to present her case clearly using plain English. As a franchise attorney, she puts those skills to work for her franchise clients making complex legal ideas seem simple and offering straightforward legal advice.
On behalf of franchisees, she has helped prospective franchisees review franchise disclosure documents and franchise agreements, create business entities, and negotiate leases. She has helped franchisees exit the franchise agreement. At trial and in arbitrations, she has represented franchisees in claims for breach of contract, fraud, breach of duty of good faith and fair dealing, and franchise law violations. She has helped franchisees terminate their franchise agreements, get out of non-competes, return the franchises to the franchisor, and recover monetary damages. She has recovered more than ten million dollars of damages for defrauded franchisees.
On behalf of franchisors, she has helped franchisors draft franchise disclosure documents and franchise agreements. She has represented franchisors in disputes with state franchise examiners and in court including negotiating consent orders.
In addition to representing franchisors, franchisees, and other small business owners, Caroline publishes and speaks extensively on franchise issues. She regularly presents at the American Bar Association Forum on Franchising and publishes in the Franchise Law Journal and the Franchise Lawyer. She is the Director of the Litigation and Alternative Dispute Resolution section of the American Bar Association Forum on Franchising and has previously served as the Director of the Small and Solo Committee.
Areas Of Practice
Franchisee Representations

Emerging Franchisors

Business Startup

Contracts and Agreements

Cannabis and CBD Franchising
Bar Admissions
Washington State

Oregon State

US District Court of Western Washington
Education
Seattle University, School of Law

Juris Doctorate, Cum Laude

Washington State University

Bachelor's of Arts

Major: Political Science
Published Works
Franchise Desk Book, Oregon chapter, American Bar Association Forum on Franchising

Franchise Litigation Handbook, Class Actions chapter, American Bar Association Forum on Franchising

Laws and Regulations Affecting a CBD-based Franchise System, Franchise Law Journal

Don't Tread on Me: A Defense of State Franchise Laws, Franchise Law Journal

Surviving the Tempest: Franchisees in the Brave New Work of Joint Employers and $15 Now, Franchise Law Journal

#You Got Served: Serving a Party Through Social Media

The Unique Practice of Franchise Law, Washington State Bar Association, Business Law Section Newsletter
Speaking Engagements
Risks and Reward of Cannabis and CBD Franchising, Guest Lecture, Seattle University School of Law 2022

The Evolution of Litigating Good Faith and Fair Dealings Claims; American Bar Association, Forum on Franchising 2020

Franchising Under the Radar in the USA and Canada: How To Ensure Your Client's, Franchise Dreams Don't Go Up in Smoke, American Bar Association Forum on Franchising, 2019

Privilege Issues in Franchise Systems, American Bar Association Forum on Franchising, 2017
Leadership Positions
American Bar Association, Forum on Franchising, Governing Committee Member

American Bar Association, Forum on Franchising, Litigation and Alternative Dispute

Resolution Committee Chair, 2019-2021

American Bar Association, Forum on Franchising, Small and Solo Committee Chair, 2016-2019